Understand your aluminium and its surfaces, Inspiration Day in May
'Understand your aluminium and its surfaces' was held on Tuesday 31 May at HAI in Horsens. The day started with an exciting presentation by Ib Kongstad about how B&O's surfaces have looked since the beginning and how the development has moved first from wood to aluminium to end the products today which contain both wood, aluminum and textile. This was followed by a more theoretical presentation by Anne Deacon Juhl, about the microstructure found in the surface of aluminium and its influence on the final appearance of the aluminium product. Lars Pleth came and talked about his and Per Møller's book about aluminium – there was a free copy for all participants.
Surprise of the day was an exciting and inspiring presentation by Mikkel Venge about his development of unique aluminium surfaces.
Jan Rohdemejer then spoke about mechanical and chemical pre-treatments that HAI carries out and which we saw on the tour after lunch.
Full house again at HAI, which also offered both breakfast, lunch and delicious cakes 😊
A full version of the article and photos are available in Danish here >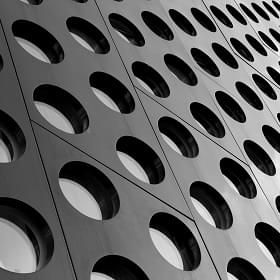 DMN - The Danish industry portal for solving materials related problems
Read about DMN
publications