PERCY mission to the USA – DAY 4 – 23 June 2022
On 23 June we are still in Akron, Ohio to meet with the Greater Akron Chamber, GAC.
The first visit of the day was paid to a pyrolyzing plant in Akron. We had a plant tour and learned about their views upon waste handling in the US and how they handle the waste through pyrolysis.
They work in pilot scale at the moment but expect to be fully operating in 8-9 months.
In the afternoon we visited the Ferriot Inc., a very large injection molder, who produce various large technical items.
As a custom injection molder, Ferriot works with Original Equipment Manufacturers (OEMs) to bring new products to life. With a clamping force of 40 to 2,200 tons, their capacity ranges from small parts weighing a few grams to those weighing 20 pounds. Injection molded parts can be simple or complex geometries for both large and small products.
Ferriot offers many other types of molding besides injection molding such as structural foam molding, gas assisted molding, insert molding, and over molding.
A majority of their capacity goes to OEMs and the remaining capacity to their own product line, named American Original Shake and Scallop Siding.
Then followed a tour of an innovation house called Bounce Innovation Hub, where startups are allowed to rent space at a very low cost, and they can stay as long as they want to. Here we met a startup working on adhesives for medical use – bandages to be used on thin skin. The day ended with a cluster networking reception, where we presented the PERCY project and had many good talks regarding recycling with the participating companies and with the mayor of Akron – Mr. Daniel Horrigan.
Again, a very well-planned day with many good impressions to bring home.
…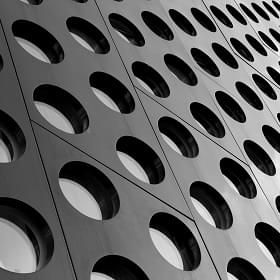 DMN - The Danish industry portal for solving materials related problems
Read about DMN
publications