Danish Materials Network in collaboration with the leading wind turbine producers in Denmark
A collaboration with Danish Materials Network, Siemens Gamesa Renewable Energy A/S, SGRE, Vestas Wind System A/S, VWS and a range of subcontractors has started to find new optimal materials for the right constructions to lower the Cost Of Energy, COE.
The choice of materials has huge influence on the cost for producing energy and this is the reason that the collaboration has launched. The project group has agreed to start working on materials for secondary components for wind turbines, more specific materials for platforms on the wind turbines towers. It must be investigated if the cost of making a platform can be reduced per square meter with at least 20% compared to the cost today.
The platforms used now is made from either steel (SGRE) or aluminium (VWS).
The prices on commodities is fluctuating but another important factor is the mounting time of the platform parts where the mounting of steel part takes significantly longer times than aluminium parts.
In the development process two new solutions is investigated, where MM Composites A/S and Avanto Wind System A/S works with solution 1 and Fiberline Composite A/S and Aalborg University works on solution 2.
The thought is that the solutions should be adaptable to different tower diameters and industrials standards should be devised for the future.
In Solution 1 is a platform deck of composite material with aluminium latter support. At the moment a number of prototypes is made and trials performed investigating deflection and mounting trails in a tower casting, which both looks very promising. The advantages by this solution is both the support structure and the lightness and easy mounting of the composite materials.
Solution 2 is a design with foldable brackets and adjustable flexible railings, that way the platforms can be adjusted to the tower diameter. The solution is made of composite materials and the platform deck can either consist of composite materials or aluminium. Mechanical tests of the foldable brackets is performed, and adjustments to the construction was performed and the adjustments is to be tested.
The development and research continues with experiments and optimization of the solutions, to gain the wanted savings. If a reduction of COE were reached it would became a significant business potential for the involved companies, and a possibility to lower the price on electricity for the consumers.
Initially there was multiple suggestions, which were created on one brainstorming day, the ideas can be seen here >
A full version of the article and pictures are available in Danish here >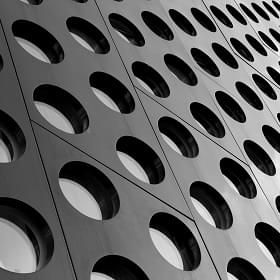 DMN - The Danish industry portal for solving materials related problems
Read about DMN
publications